We're starting things off right with our delicious Apple Cinnamon Rolls. Make sure you have a 9×13 Rectangular Baker on hand first! We used Peony for our recipe, but feel free to use your favorite Fiesta color.
Apple Cinnamon Rolls
Ingredients
Dough
4

cups

all-purpose flour

1/3

cup

granulated sugar

1

packet

Rapid Instant Rise Yeast

1

tsp

salt

1-1/2

cups

milk

6

tbsp

butter

1

egg

room temperature
Apple Cinnamon Filling
1/4

cup

butter

room temperature

2/3

cup

light brown sugar

1

tbsp

ground cinnamon

1-1/4

tsp

apple pie spice

3

apples

peeled and diced in 1/4" bits

1

pinch

salt
Cream Cheese Frosting
4

oz

cream cheese

room temperature

1/2

cup

unsalted butter

room temperature

3

cups

powdered sugar

2-3

tbsp

milk

1

tsp

vanilla extract

1

pinch

salt
Instructions
Start by taking a large bowl and in it, mix together 2 cups of flour, yeast, salt, and sugar. Ensure they are well combined.

In a microwave-safe bowl, warm the milk and butter for 30 seconds until they are warm and the butter is almost melted. It should be comfortably warm, not scalding. If it's too hot, let it cool a bit before adding it to the yeast to avoid harming the yeast. Pour this warm milk-butter mixture into the flour mixture.

Add the egg and beat it on low speed, gradually increasing to high, until it's thoroughly mixed in, which should take about 2 minutes.

Scrape down the sides of the bowl, then add another cup of flour, continuing to beat until it's fully incorporated. Gradually add the remaining cup of flour bit by bit until the dough starts to pull away from the sides of the bowl and forms a ball.

Transfer the dough to a well-floured surface and knead it for approximately 10 minutes until it becomes smooth and can be stretched without breaking. This indicates that the gluten has developed, resulting in soft, pillowy dough.

Place the dough in an oiled bowl, cover it, and let it rise in a warm location for about 1 hour or until it has doubled in size.

While the dough is rising, prepare the filling by peeling, coring, and dicing the apples into small pieces. In a small bowl, combine the sugar, spices, and salt, mixing them thoroughly. Set this mixture aside.

Once the dough has doubled in size, roll it out on a well-floured surface into a large rectangle measuring approximately 18 x 12 inches.

Spread the butter for the filling evenly over the entire surface of the dough. Sprinkle the sugar mixture and the diced apple pieces onto the butter, pressing them down to stick.

Starting from the long side, roll the dough away from you into a tight cylinder, sealing the bottom edge by pinching the dough together.

Use baker's twine or a very sharp knife to cut the dough into 12 even rolls. Arrange these rolls in a 9 x 13 inch Rectangular Baker lined with parchment paper. Cover loosely with a kitchen towel and allow them to rise for another hour until they have doubled in size and become puffy.

Bake the cinnamon rolls at 350°F for approximately 30 minutes or until they turn golden brown and are no longer doughy. After baking, transfer them to a wire rack to cool.

While the rolls are cooling, prepare the cream cheese frosting. Combine the cream cheese, butter, powdered sugar, milk, salt, and vanilla extract. Start at low speed, gradually increasing to high, until the mixture becomes light and fluffy. Spread this icing evenly over the rolls.
Pro fall baking tip! Use our Pumpkin Plate in Jade as a spoon rest or tasting place for all your fall baking recipes.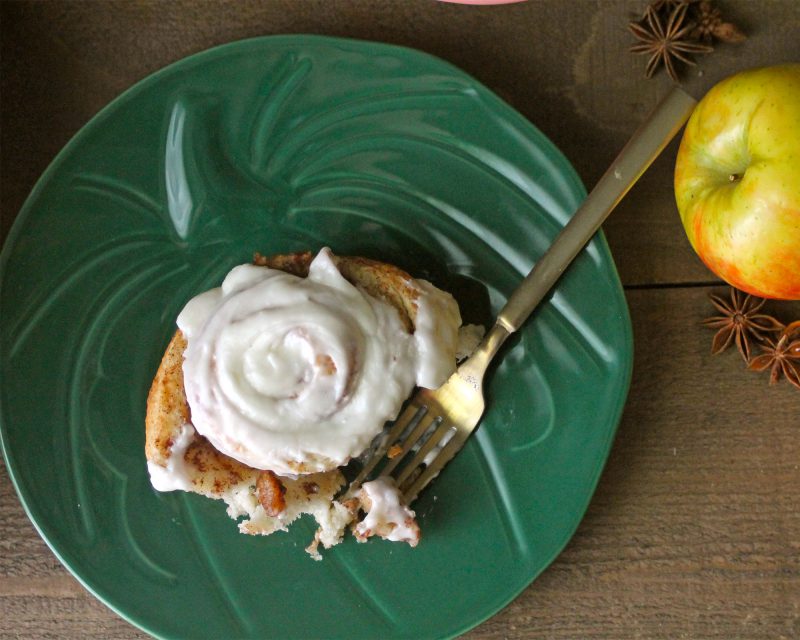 If our Apple Cinnamon Roll didn't satisfy you're sweet tooth, try Apple Pie Ice Cream! Our Loaf Pan is the perfect size for making this ice cream, plus it's freezer safe!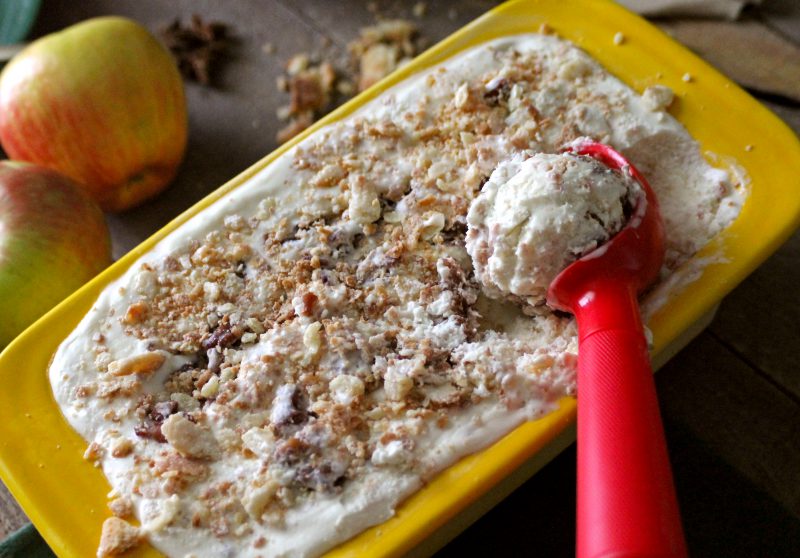 Apple Pie Ice Cream
Ingredients
Apple Pie Ice Cream
1

premade pie crust

baked and cut into bite size pieces

2

cups

heavy whipping cream

1

tbsp

vanilla extract

14

oz

sweetened condensed milk

1/2

tsp

salt
Apple Pie Bits
2

large apples

2

tbsp

light brown sugar

1

tsp

cinnamon

1-1/4

tsp

apple pie spice

juice of 1/2 lemon

1

tsp

vanilla extract

1/4

tsp

salt
Instructions
Cut the apples into small cubes and place them in a medium-sized pot. Combine them with all the other ingredients.

Cook over medium heat for 20-25 minutes until the apples become soft and mushy. If the mixture becomes dry, add a tablespoon of water at a time, up to 1/2 cup throughout cooking.

Once the apple mixture is cooked, let it cool for 10 minutes, then use an immersion blender to pulse until the mixture is somewhat uniform, but with small apple chunks for texture.

Line a loaf pan with parchment paper and set it aside.

Whip the heavy cream in a mixing bowl until soft peaks form, then gently fold in the vanilla extract and salt.

Pour the sweetened condensed milk onto the cream and fold gently until well combined. Add the pie crust pieces and fold them in.

Carefully scoop half of the ice cream into the prepared loaf pan. Spoon half of the apple mixture onto the ice cream in concentrated pools.

Use a knife to create large swirls to incorporate the apple mixture. Sprinkle a handful of pie crust. Then, add the remaining ice cream on top and repeat with the remaining apple mixture and pie crust.

Cover and freeze for a minimum of 12 hours before serving.

Notes
You can bake the pie crust at any time. Lay it flat on a baking sheet and bake at 375°F for about 20 minutes or until it turns golden brown. Let it cool, then roughly chop or crumble it into pieces. Store the pieces in an airtight container until ready to use.
We hope you enjoy our two must-try autumn apple recipes. Happy fall!