Halloween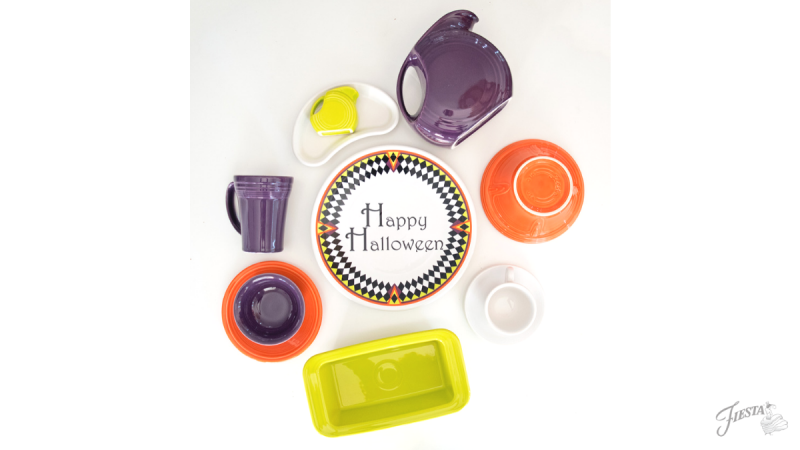 Harlequin is a new design that will launch later this year for Halloween 2019. It says "Happy Halloween" and features a geometric patterned design in Black, Poppy, Lemongrass, and Mulberry around the outer edge. Harlequin will be available in the following pieces:
Luncheon Plate

Chop Plate

Tapered Mug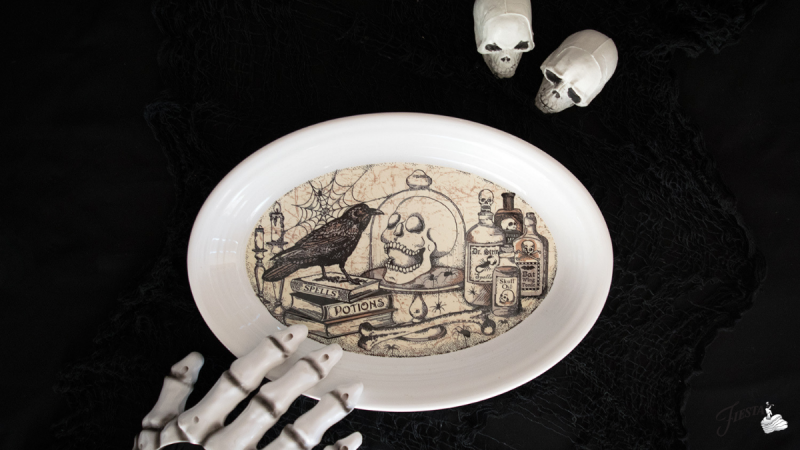 Another new introduction is the macabre vintage inspired design, Mystical Halloween. It features an assortment of items like apothecary jars, skulls and ravens intertwined with spider webs. Mystical Halloween will be available in the following:
13" Platter

Luncheon Plate, Apothecary Jars

Luncheon Plate, Pedestal Server with Skull

Luncheon Plate, Books with Raven

Tapered Mug, Apothecary Jars

Tapered Mug, Pedestal Server with Skull

Tapered Mug, Books with Raven
Holiday
The 2019 holiday season will definitely be merry and colorful with several new Fiesta introductions.
The Christmas Tree in Blue design is a new take on the traditional Fiesta Christmas Tree collection. The Fiesta Christmas Tree is all decked out in shades of blue, including Turquoise, Lapis and Cobalt. Christmas Tree in Blue will be available in the following pieces:
Luncheon PLate

Tapered Mug

Medium Oval Platter

Small Bowl

Dinner Plate

Appetizer Plate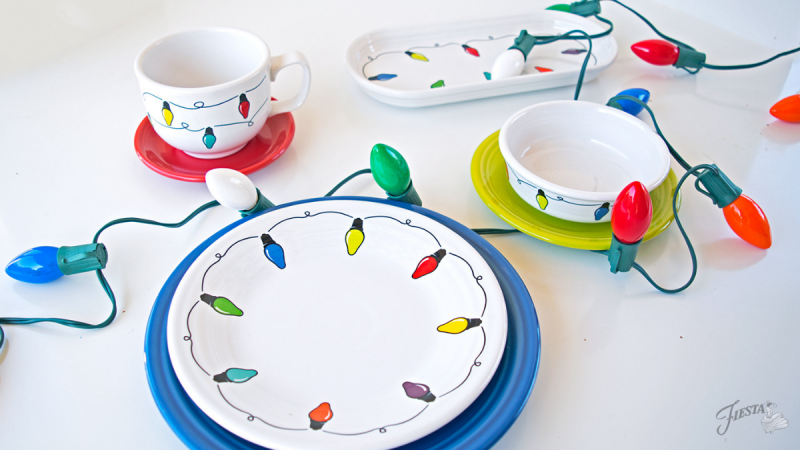 Fiesta Lights is another new addition to Fiesta's Christmas designs. It features a strand of festive Christmas bulbs in a variety of colors, including Scarlet, Daffodil, Mulberry, Poppy, Turquoise, Shamrock, Lapis, and Lemongrass. Fiesta lights will be available in the following:
Ornament

11" Platter

Jumbo Cup

Bread Tray

Small Bowl

Luncheon Plate

Dinner Plate

Bistro Bowl

Appetizer Plate

Bistro Buffet Plate

Bistro Dinner Plate

Bistro Salad Plate

Bistro Bowl

Rectangular Tray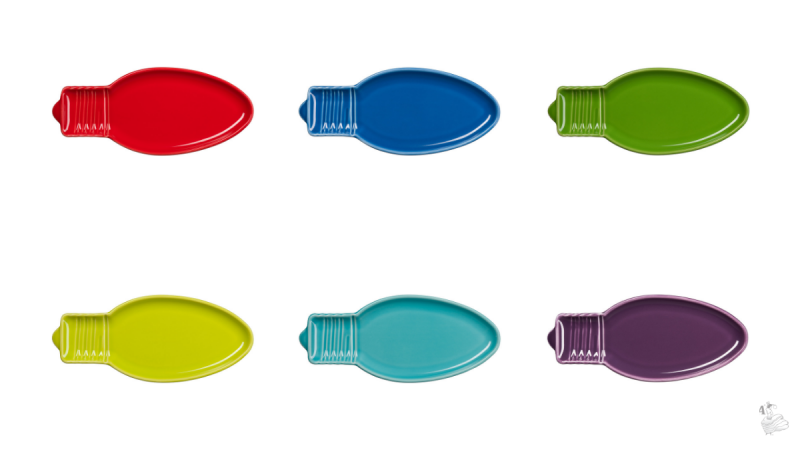 We're also adding a Lightbulb Shape Plate to round out our Christmas designs. It will be made in the following colors: Turquoise, Scarlet, Mulberry, Lapis, Shamrock, and Lemongrass.
The new Halloween designs will be available July 2019 and Christmas designs will be available September 2019 at better department stores, independent retailers, .coms, and on www.fiestafactorydirect.com.