This recipe should take about 1 hour from start to finish. It's easy enough to have your kiddos help!
Here is our guide to forming the pretzel shape.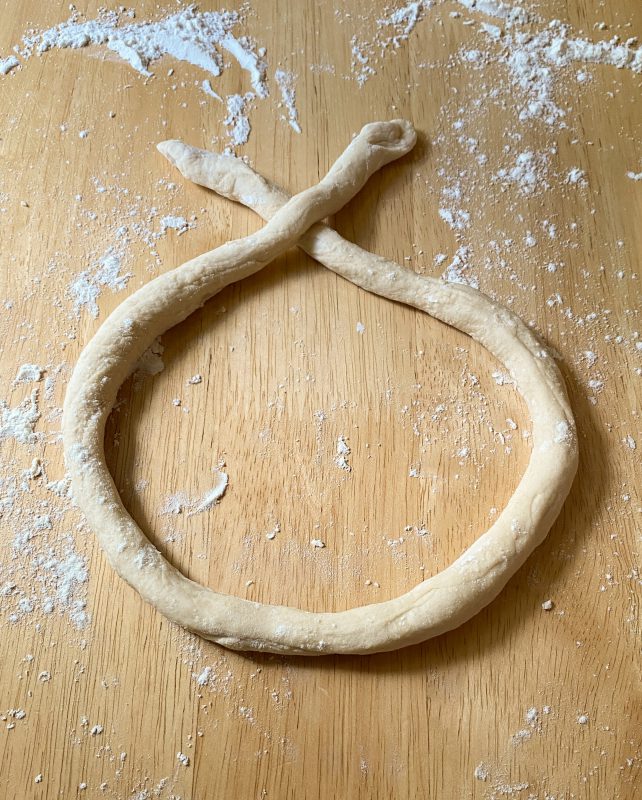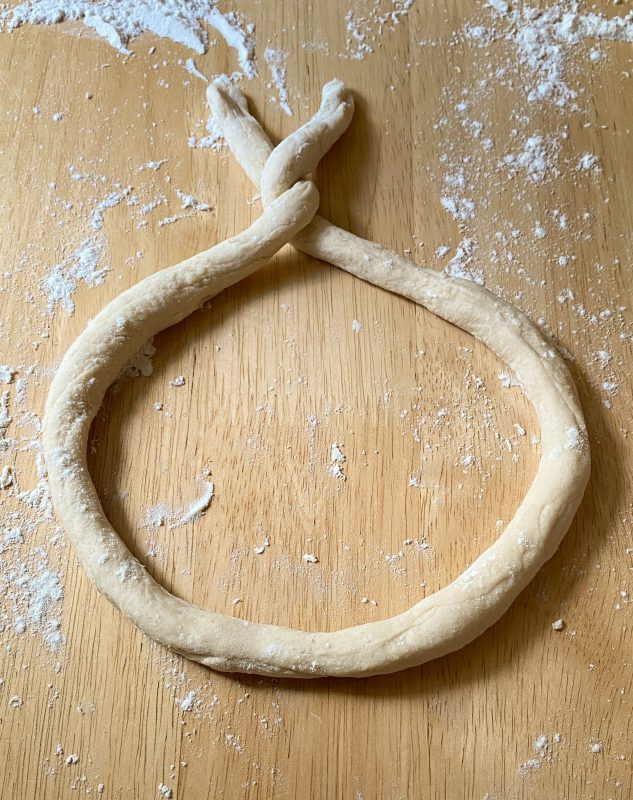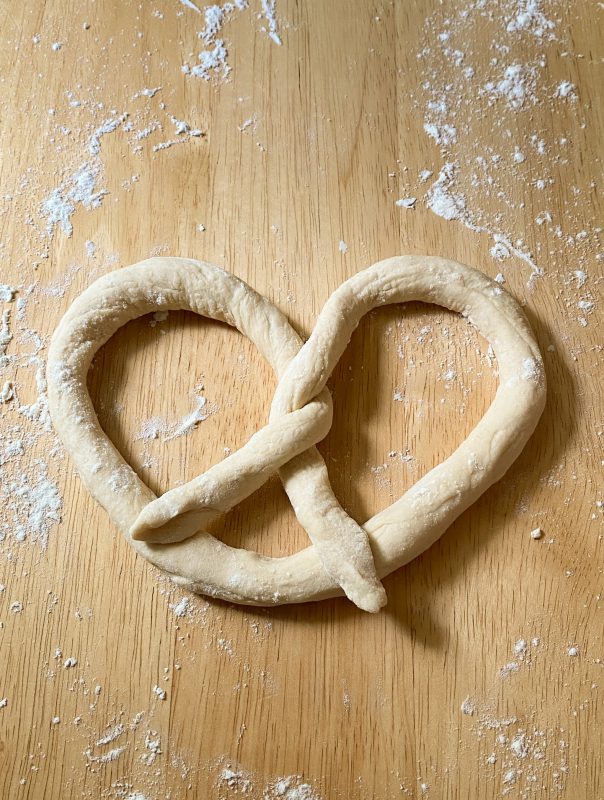 Soft Pretzel Recipe
Ingredients
1 1/2

cups

warm water

2 1/4

tsp

instant yeast

standard packet

1

tsp

salt

1

tbsp

brown sugar

1

tbsp

melted, unsalted butter

slightly cooled

3-4

cups

flour

sprinkle of

coarse salt

extra

melted butter to brush on afterwards
Baking Soda Bath
1/2

cup

baking soda

9

cups

water
Instructions
Whisk the yeast into warm water, and let it sit for 1 minute.

Whisk in salt, brown sugar, and melted butter.

Slowly add in 3 to 4 cups of flour until the dough is no longer sticky. Poke the dough, and if it bounces back, it is ready to knead.

Turn dough onto floured surface. Knead for 3 minutes and shape into a ball. Place in a glass bowl and cover lightly with a towel. Allow dough to rest for 10 minutes.

Meanwhile, preheat your oven to 400°F. Line two baking sheets with silicone mats.


Fill a large pot with water and baking soda for the baking soda bath. Bring to a boil.

Use a sharp knife to cut dough into 9-10 sections. Roll each section into a 20 inch rope. Then shape the rope into a circle, crossing ends of dough at the top. Twist the ends one time, and then fold them down to the bottom of the circle and press in.

Drop pretzel one by one into the boiling baking soda bath for 30 seconds. Do not leave the pretzels in the bath any longer. Using a slotted spatula to lift pretzel out of the water and allow water to drip off. Place on silicone mat/baking sheet.

Sprinkle with coarse salt and bake for 12 to 15 minute or until golden brown.

Remove from oven and brush with melted butter. Serve warm with nacho cheese. Enjoy!
Notes
Cover and store at room temperate for up to three days. To reheat, place in microwave for a few seconds or in the air fryer for a couple minutes at 350°F.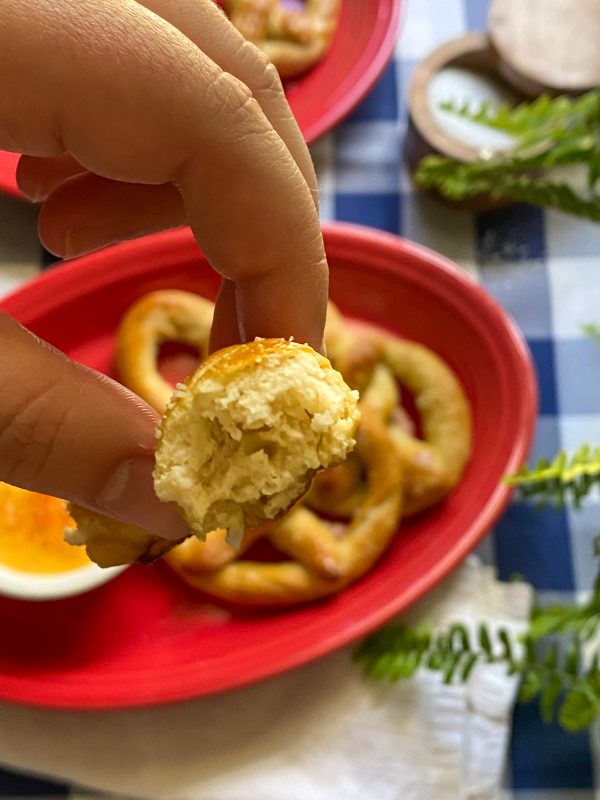 Slightly crispy on the outside, soft and fluffy on the inside.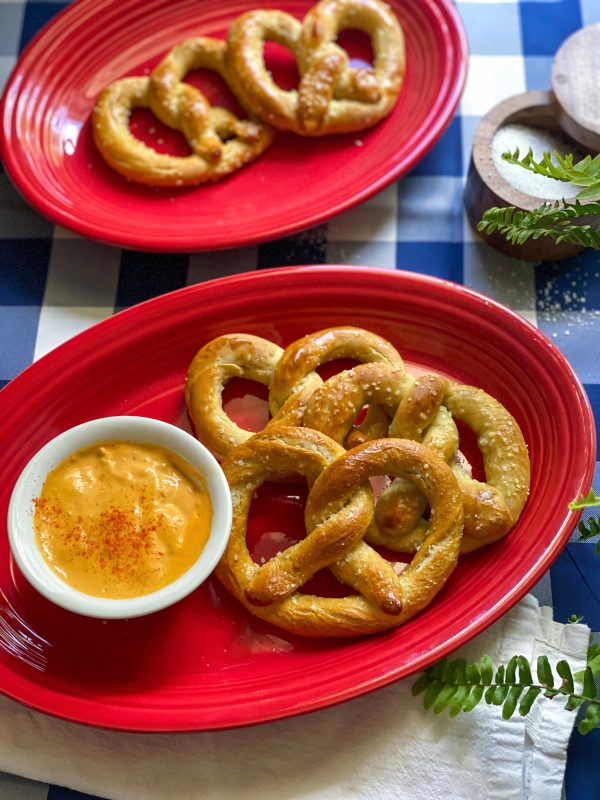 Serve these delicious pretzels on our Medium Oval Platter, and take them to cookouts and picnics this summer!
Trust us, they wont last long.
If you try this recipe, comment below and tell us what you think!