Q: Will you ever make a hot pink?
A: This is the question we get asked more than anything else!
We would love to give you all a true bright pink, but at this time we are not able to create that shade while also keeping with our lead-free promise. Creating glazes is a chemical process and is therefore more difficult than pointing at any color in the color spectrum and recreating it. We're not giving up though! It took us years to perfect a bright red color before we got to Scarlet, so it's possible that one day we'll get it right.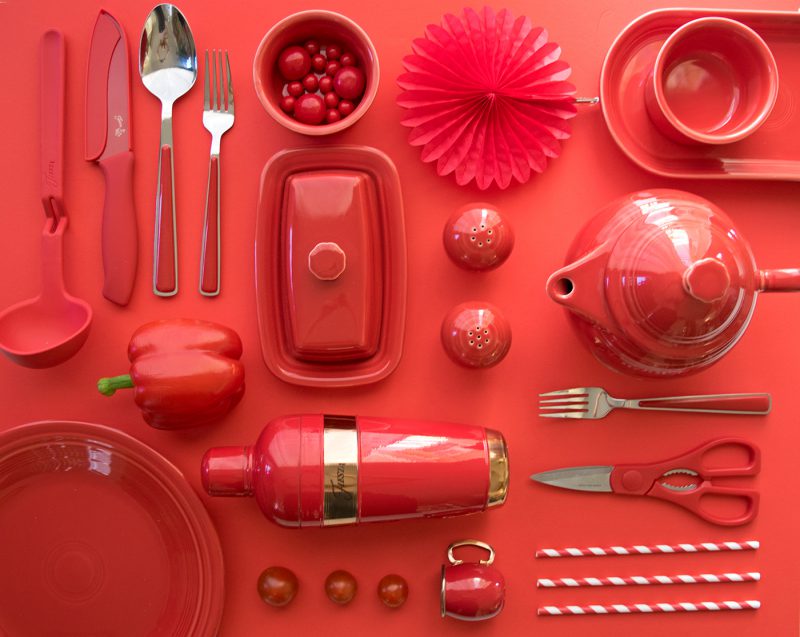 Q: What is your all-time best selling color?
A: While we do not have sales figures broken down for our vintage colors, we do know that Scarlet, introduced in 2004, is the best-selling modern color.
Q: Are your dishes made in the USA?
A: We are proud to say that our Fiesta® Dinnerware is still made here in the USA at our plant in Newell, West Virginia where it was originally designed and produced nearly 75 years ago.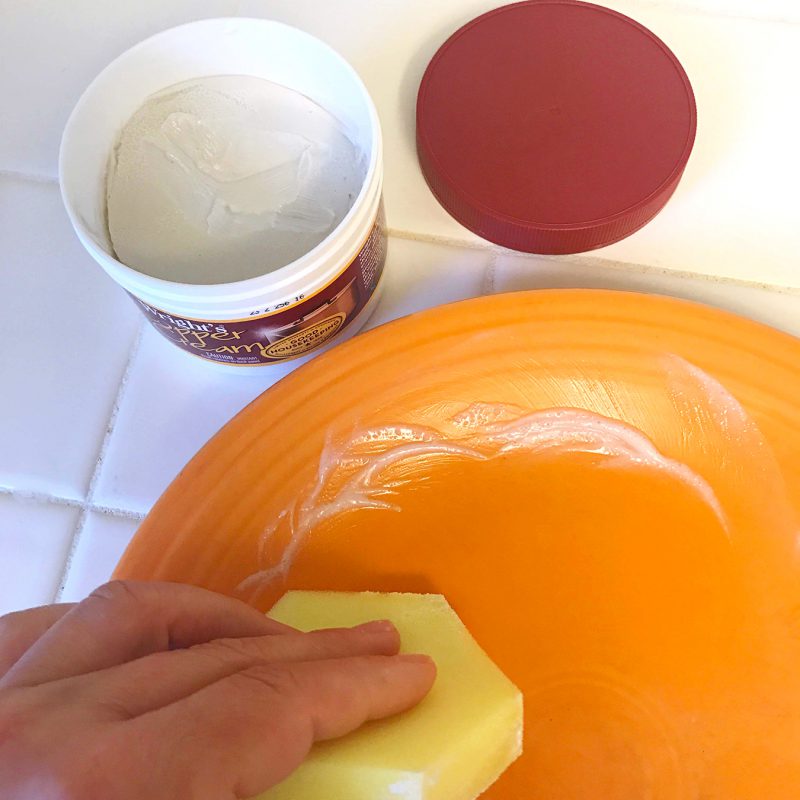 Q: My dishes have received metal marks from silverware after years of use. Is there anything I can do about this?
A: We recommend using Wright's Copper Cream or Bar Keeper's Friend to get rid of metal marks on your dishes. Simply follow directs on tub, using applicator sponge in a circular motion to apply paste, thoroughly wash off with dish soap and water to eliminate metal marks.
Q: Will you still make the 5pc Place Setting?
A: Management understands that there is a continued limited interest in the 5pc place setting, therefore we will make the 5pc setting for the 2019 New Color from rollout through the Holiday Season via fiestafactorydirect.com and outlets.
The components of the 5pc setting will continue to remain available by combining the 3pc Classic Place Setting as well as long standing open stock components of various mugs, cup & saucer.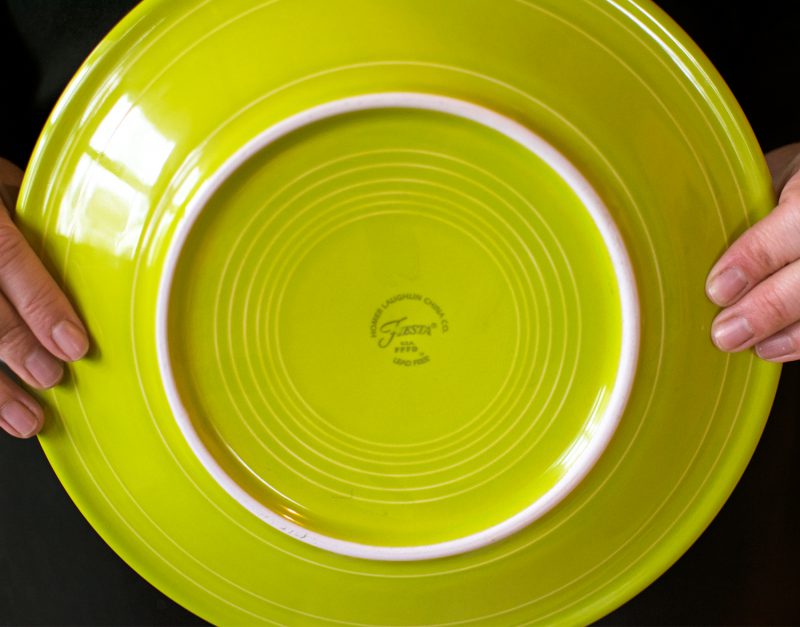 Q: Why are there different back stamps on my Fiesta® Dinnerware?
A: The method of placing our identification mark on a piece is determined by the way that the piece is made. Most of our hollow pieces (mugs, bowls, pitchers, vases, etc.) are formed in a mold and our mark is carved into the mold, leaving an impressed mark on the piece. Flat items such as plates are formed by a different method and an impressed mark cannot be placed on the bottom of the piece. In this case, we use an ink stamp which is applied to the unfired piece, beneath the glaze. Note that on some of the darker glazes it is very hard to see the back stamp.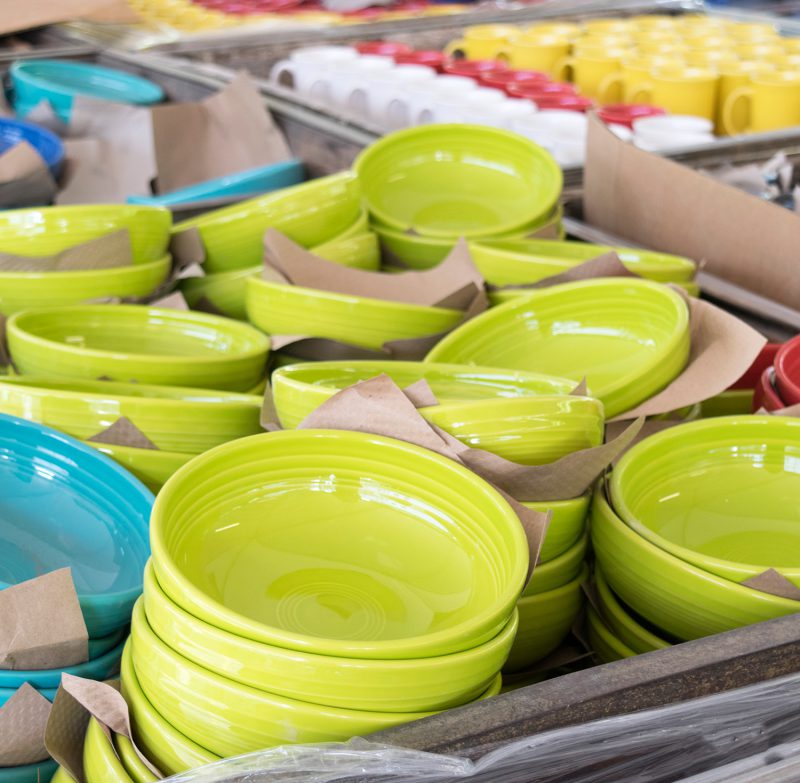 Q: When is the next tent sale?
A: Follow the link to keep track of all our Tent Sale dates! bit.ly/TentSalefyi
Q: Is your dinnerware lead and cadmium free?
A: Fiesta® Dinnerware has been "lead-free" since 1986. The phrase "lead-free" has been and is used in connection with ceramics, including dinnerware products, in which a lead compound was not deliberately purchased and added as part of the composition even though a trace amount of lead may be present in the other naturally occurring raw materials. Because of the trace amounts of lead found in almost all ceramic raw materials, Homer Laughlin China chooses not to use the phrase "100% lead free."
Our glazes contain scant amounts of cadmium that are encapsulated to keep it from leaching, and are safe for food use. The USFDA permits 0.25 to 0.5 parts per million to be safe for food use. California's Proposition 65 considers 0.084 to 3.164 parts per million to be safe. Our Fiesta Dinnerware averages cadmium release of LESS THAN 0.02 parts per million.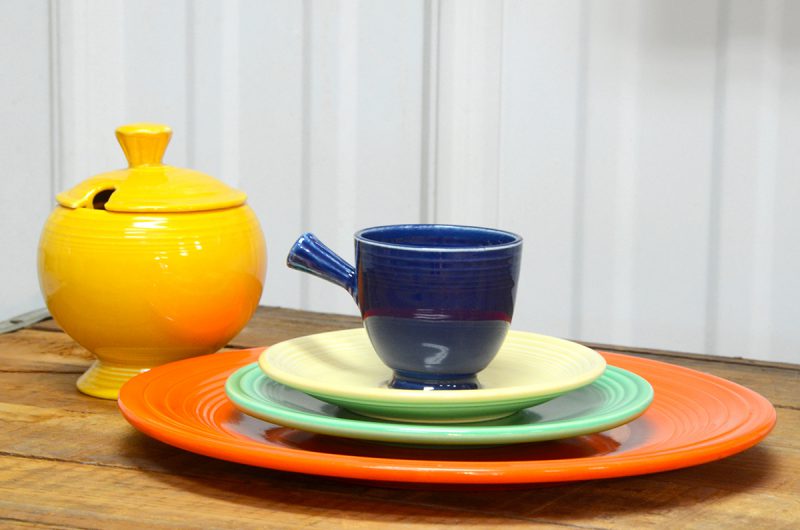 Q: Where can I find vintage Fiesta?
A: We suggest www.replacements.com, eBay, or your local antique shop.
Q: Is your dinnerware oven safe?
A: Yes! Our dishes are oven, microwave, dishwasher, and freezer safe, and can go from freezer to oven. Typically, 350 degrees is very acceptable for dinnerware in the oven, while bakeware can reach 500 degrees. While all pieces are temperature safe to 500 degrees, we do not however recommend placing above or directly under direct flame.
For more FAQs, visit out FAQ page on our website: bit.ly/FiestaFAQ