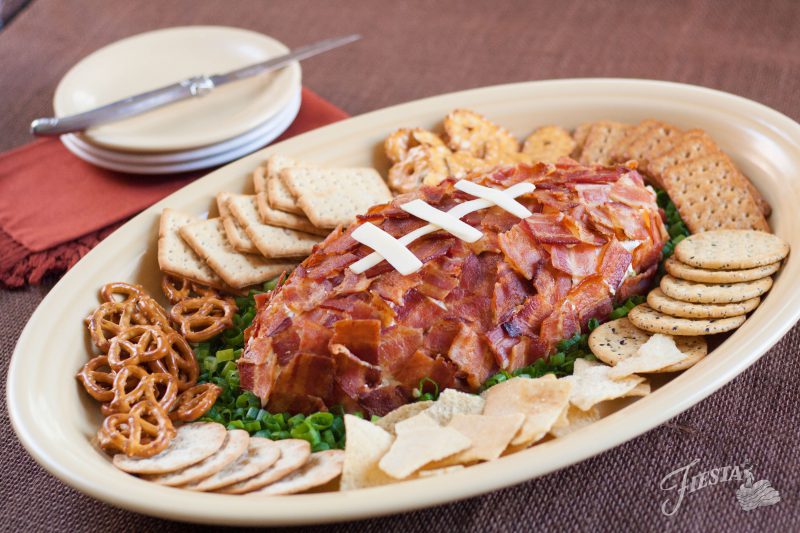 The cheese ball itself comes together super easy, by simply mixing together onion & chive cream cheese, shredded cheddar cheese, and a bit of garlic powder. The most time consuming part of this dish is waiting for the bacon to cook, which we baked in the oven for the most evenly cooked bacon. To set this up, line a large rimmed baking sheet with aluminum foil and place a wire baking rack on top. Lay slices of bacon on the wire rack. We used two of these baking sheet set-ups so that we could bake all of the bacon at once.
As you can see, the torn pieces of bacon bring the football cheese ball to life, making it look like an authentic pig skin (see what we did there?!). A carefully sliced string cheese stick makes the laces for the football and chopped green onions spread around the ball add that grassy look of a field and a bit of extra flavor.
Serve on a large platter like our handy Extra Large Oval Platter along with an assortment of pretzels, crackers, and even fresh veggies like carrots and celery.
Football Cheese Ball
2017-11-07 12:35:36
Ingredients
2 packs uncooked bacon (about 12oz each)
4 containers Onion & Chive Cream Cheese (8oz each)
2 cups shredded cheddar cheese
1 tsp garlic powder
1 string cheese stick (mozzarella)
1Ž/2 cup thinly sliced green onions
crackers, pretzels, or veggies for dipping
Instructions
Preheat oven to 400 degrees.
Line two large rimmed baking sheets with aluminum foil and place a baking rack on top of each. Place as many strips of bacon on top of the racks as you can fit (about 13 slices per sheet) and save the rest of the bacon for later uses.
Cook bacon in 400 degree oven for about 30 minutes, checking even 5 minutes or so for doneness. The bacon should look crisp but not burnt.
Remove bacon from oven and allow to cool.
Meanwhile, in a medium bowl mix together cream cheese, shredded cheese, and garlic powder.
Spoon out into a rough football shape in the center of a large platter, such as a Fiesta XL Platter. Use your hands so gently shape the cheese ball into a more precise football shape.
Cut the cooled bacon into bite-sized pieces and then stick them on to the cheeseball, covering all exposed area. Then, cut the string cheese stick into one long strip and three small strips for the laces and lay on top of the bacon-covered cheese ball.
Sprinkle the sliced green onion around the sides of the ball. Serve with pretzels, crackers, or fresh veggies.
Notes
*Can be made a day in advance, but we recommend cooking the bacon as soon to serving as possible.
Fiesta Blog http://blog.fiestafactorydirect.com/